It was the mid 1960's in Chicago
and something big was on the horizon. It hit us fast and hard.
Back then, Schwinn Sting-Rays and Krate bikes invaded the American culture with a vengeance. These two wheeled wonders soared to the top of the charts
before you could say uncle.
Baby-boomers
all across America
were making their mark on the world.
Our day was just beginning.
Look out world, here we come!
What is it about these cool street riders that makes them still sought after well into the 21st century? Let's explore this phenomenon.
In the late 1950's and early 1960's "muscle cars and motor cycles" were making quite a statement on the streets across America. They were being tricked out with fancy paint jobs, wide tires and fast engines. The movie "American Graffiti" depicted it perfectly. The cars were super cool! The young drivers were so desperate for the thrill that they had to experience it for themselves.
In an effort to bring that cool to the teen and preteen generation, kids out west mimicked those motorized wonders by customizing their own personal bikes with high-rise handlebars, low-rider seats and slick tires. They created super cool street rides of their own. Their efforts didn't go unnoticed. Someone was watching!
In 1962, Schwinn's engineer, Al Fritz, traveled west to California to check out this exciting and growing trend. Al was so inspired by what he saw that he decided to create a bike that complimented those styles. And so he went back to Chicago and hit the drawing board.
The Sting-Rays
Al wasted no time putting his ideas in motion. He started with a
strong 20" Schwinn quality
bike frame, fabricat
ed a sleek new banana-style seat and cool high-rise handlebars, labeled it with the trusted
Schwinn
name and thus, "The birth of the Sting-Ray". It was fantastic! Schwinn was onto something big and boy did it pay off!
Schwinn's new Sting-Ray bike hit the market i
n 1963 at a price of only $49.95 and by the end of 1964 the Sting-Rays accounted for 70 percent of the total bike sales across the United States.
The original design featured a 20" frame, rigid front fork, nylon tires, coaster brakes, a banana-style seat and butterfly handlebars. This
gave the rider an
exciting combination of features
from f
ast starts to
quick maneuvers to short radius turns.
1970 Fair Lady
In its' initial year, Sting-Rays were produced as boy's models only. But the girls were not long forgotten. In 1964, the Fair Lady model for girls joined production. It featured pastel paint and a front basket which became an instant success at only $49.95 each.
The early Sting-Rays came in f
ive popular colors: Flamboyant Lime; Flamboyant Red; Radiant Coppertone
(1963 1/2);
Violet and Sky Blue(1964-1967)
The Krates
1971 GREY GHOST-THE RAREST OF THE RARE!
The Grey Ghost was only made in 1971.
In 1968 Schwinn introduced their first Krate series bicycles. The super cool of the muscle bikes had a classic 20"wide slick tire on the rear combined with a 16" wheel and tire on the front. Linked together with the front springer fork and rear shocks, the Krate was "King of the Road". If you owned one of these Krate bikes you were the coolest kid in the neighborhood.
Six Krate colors were produced from 1968 through 1973. The model name reflects the color. Apple Krate,
Cotton Picker
, Grey Ghost, Lemon Peeler, Orange Krate, and Pea Picker.
Safer, less-cool handlebar shifter
Schwinn sold over a million Krates between 1968 and 1970.
By 1973 the original Krates were taking serious heat from the CPSC (Consumer Product Safety Commission). The rearward weight bias, and small front wheel were attributed to numerous injuries.
The signature five speed Stick-Shift was banned in 1974 and replaced with a handlebar mounted shifter. This one simple change removed the "Cool" from the shifter and drastically reduced the popularity of the Krates and Sting-Rays.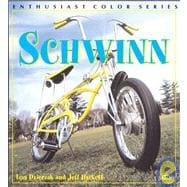 Schwinn Book
Production of the Sting-Rays and Krates continued on until 1979, ending with the dawning of the BMX bike craze.
Nonetheless, the Krates and Sting-Ray bikes are here to stay.
Krates originally sold for $86.95 to $129.95 in 1968. If you happen to own an original today in decent shape you are fortunate to own a valuable asset in high demand among collectors. These bikes are collecting between $2000 and $4000 each. On any given day you can find the ever-popular Krates on eBay.
Reproduction Krates
Schwinn put out some reproduction Krates in 1999 going through 2006.
The reproduction Krates were pretty much true to original specs but they don't compare to owning an original. The popular stick-shift was excluded to accommodate a five speed shifter that was attached to the handle bar.
Schwinn made a limited number and they have since become a well sought after collectors item.
In 2011 Schwinn again reintroduced a limited number of Krates. Only 900 of the special limited edition Krates were produced in four colors: Apple Krate, Orange Krate, Lemon Peeler, and Grey Ghost.
Where To Buy
If you would like to own a classic Krate or a reproduction Krate, eBay is a good place to start looking. You can also check thrift stores and flea markets. Who knows what you may find. Have fun.
Some Pictures and Individual Facts
1963 Sting-Ray: The demand for these classics is going strong. This original Schwinn 1963 Coppertone Sting-Ray sold on eBay for $2282 on September, 2008. One could only imagine what it would go for now.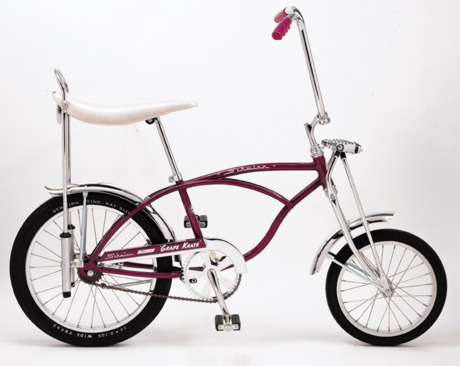 1999 Grape Krate:

The Grape Krate was never produced by Schwinn in the original era of the muscle bikes. It had been a concept, and was rumored to have almost made it to production.
In 1999 the re-formed Schwinn bicycle company produced this coaster brake model in Asia, and finally, the Grape Krate became a reality. This limited production model was built in a quantity of 2000 units, packaged in an authentic Schwinn carton, and designed for the collector.
1970 Apple Krate

5-Speed: The Apple Krate was produced until the end of its time in 1974. The five speed stick shift model shown here was made in March 1970-"CF serial number". Oh what a beauty this is!
1971 Gray Ghost-The Rarest Of The Rare!

The Grey Ghost was only made in 1971. They were available in the five speed model with stick shift and the coaster brake model shown here. Very few coaster brake models were produced. This bicycle was recently reproduced by the Schwinn company and sold in limited quantities. The China made Ghost does not compare to this genuine original.
1968 Schwinn Mini Twinn:

This classic was only made for one year so it is very rare. Only 400 were made.
Orange Krate, Apple Krate, Pea Picker, Cotton Picker, Lemon Peeler, Grey Ghost, and Mini Twinn Bicycles are registered trade marks of the Schwinn Bicycle Company.
So there you have it: All the magic that has kept the all time classic world renown Sting-Ray still sought after well into the 21st century.