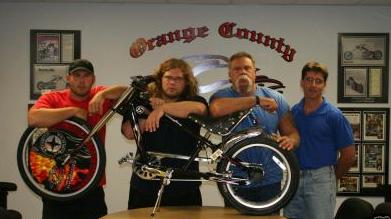 The popular TV show Orange County Chopper out of New York has been watched all over the world since 1999. I remember watching Paul senior and his two sons getting in each others faces while facing a deadline for a chopper they were building. I loved it and so did the rest of the cycling world. Nothing like watching the average or not so average dysfunctional family in action.
Click photo to view
OCC Choppers on eBay.
Well, in case you didn't already know, Schwinn invested on their popularity and came up with an OCC Chopper Bike designed especially for the Schwinn enthusiast. It was quite popular when it first came out in 2004. I have a red one with red fenders, saddle seat and a wide rear tire.
I got it from eBay for about $200.00. Now I think you may be able to get one for around $100.00.
It was kind of awkward to ride and became less popular after the first year. I'm going to keep mine a while and see what happens. Maybe it will be a collector someday. The OCC Chopper bike
has since been discontinued by Schwinn.
Schwinn also has an electric OCC chopper bike for about $460.00 on Amazon. Just as well, it is a cool looking bike and I'm sure it has a place in the world of the Schwinn enthusiast….
See the
Schwinn S2938 250 watt Electric Stingray Bike
on Amazon.